Michael Tobias
NAMM 2008 I met Michael many years ago. He has always been sympathetic with my quest to find smaller basses. He and I have been working diligently the past several years to create a petite 5 string bass that has a shorter neck, smaller body size and is lighter weight. Of course the most important thing is that the sound must have a phenomenal low end with punchy mids and clear, sweet highs. Michael was able to make this happen. Here is a photo of the first of the basses. As you can see they are true beauties. The red body is mahogany with a spalted maple top. The neck is maple with a rosewood fingerboard. The black body bass is poplar with a rosewood fingerboard.  These basses are a 32″" scale with 24 frets and use the Buzz Feiten Tuning System. The neck spacing is narrower as well – 16 1/2.  I use Michael's basses exclusively.  Although I like the MTD strings, I tend to be partial to Thomastik-Infeld strings.  For me, they sing and allow for more nuance.
Pictured below are:
Daniel Tobias and Michael Tobias of MTD
Pure geniuses.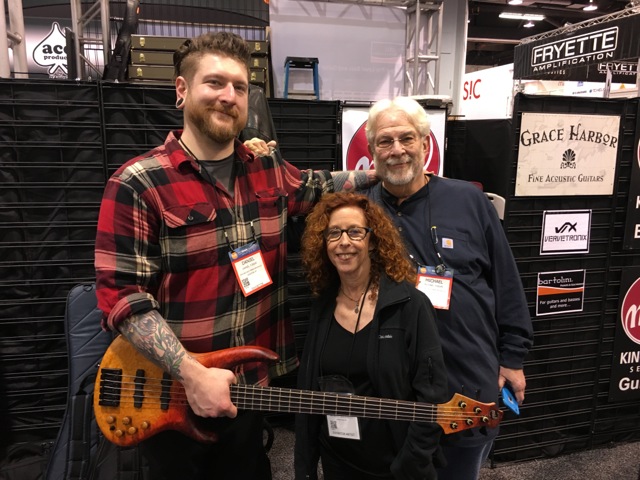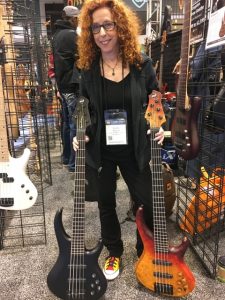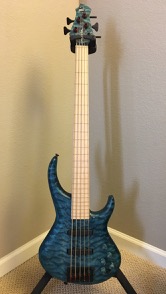 The blue bass is a fretless and a strikingly gorgeous bass.  It's a maple body with a quilted maple top and maple neck.  The fingerboard is lacquered Birdseye maple.  The fret lines appear on the neck in blue and at the adjacent note markers on the side are blue led's with a switch for brightness.
I use the LaBella clear nylon over copper on this bass.  750C JG – 105 60-115 Medium Scale
All basses have Bartolini-J pickups.
Comfort Strapp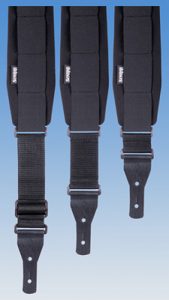 TecAmp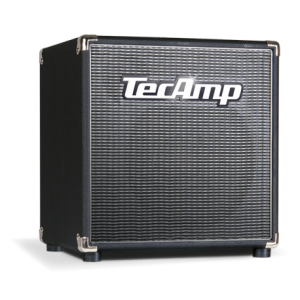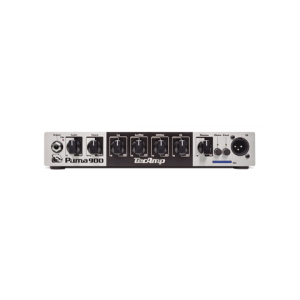 A couple of years ago, Glenn Kawnamoto approached me at NAMM and suggested I try out the brand new TecAmp gear.  I wasn't really looking for an amp but thought I'd try it out.  I was stunned at the sound.  It was really easy to dial in a great tone with ease on the spot.  I fell in love with this rig and immediately started using it.  It weighs next to nothing and the volume capability is huge!  This rig is so perfect that I own two of them!  The Puma 900 and the XS112 Classic (I own it in white and it rocks)!!  If you want something modular with a huge sound – this is what you need to own!
For more info:  www.tecampusa.com
Peak Music Stands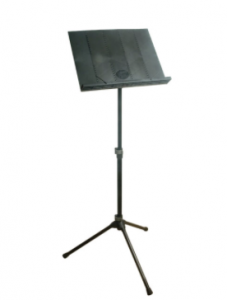 Music stands.  What's to say.  It's just a music stand, right?  Nope, wrong!  This music stand is the absolute best alternative to our industry standard, the Manhasset.  This stand uses piano hinges and easily folds up into piece that fits into the bag that comes with it.  It will not blow over in the wind (that's a big one!) and all stands lights clip right on it.  It's really durable and is a must have!
More about SMS 20 Collapsible Music Stand
Mogami Cables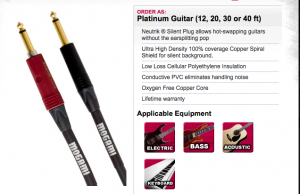 I began using Mogami Cables a couple of years ago.  Most often people claim that they can't hear the difference between a cheap cable and a good one.  Truth is you feel the difference first!  The signal is quick so the response to your playing feels quick. People that are into high end audio – audiophiles – really get this concept.  You can hear the lag in a bad cable.  The cable is full range and it is now the partner to my bass, always!
Line 6 Variax 705 Bass
Working in the musical theatre world requires alot of versatility as scores are often written for a variety of basses. The current show that I am working on requires a double of electric and acoustic bass. Although I play a KYDD electric acoustic bass I find the sound to be a hybrid of acoustic and fretless rather than the sound of a true acoustic bass. More often than not this sound works well however this score required more authenticity. In looking for an alternative I discovered the Line 6 Variax bass. I went to visit Line 6 and met with my old friend Tim Godwin. I had been told that the acoustic bass sound in the Variax was fantastic but I didn't believe it until I heard it with my own ears. I was amazed at the accuracy of the sound. The world premiere of Sister Act began at the Pasadena Playhouse where the orchestra pit was barely big enough to fit all 10 of us without adding an acoustic bass to the mix! The Line 6 Variax was the answer to my quest. During rehearsals Alan Menken (Composer), Doug Besterman (Orchestrator), Michael Kosarin (Music Supervisor) and Glen Slater (Lyricist) all asked to hear the sound of this so called "computer" bass. When I played it I watched them turn from folks needing me to prove something, to folks who'd just had it proven. In unison I watched their smiles grow from ear to ear as they verbally admitted that they couldn't believe the sound. They were thrilled, and if they were thrilled so was I!
www.line6.com
KYDD
Thomastik-Infeld's Jazz Bass Strings
I use the Jazz Series bass strings made of nickel wound steel. The highly flexible steel core gives them a smooth, balanced feeling with high output and an extended durability. I use the 5 string sets with gauges of .043 to .118. They're bright out of the box but not brittle or harsh.
www.thomastik-infeld.com
Endorsements
MTD | TecAmp | Comfort Strapp  | Mogami | Peak Music Stands | Yamaha | KYDD | LINE 6