I have my own line of Lynn Keller T-shirts.  All profits go to City of Hope Center for Cancer Research
 https://pumpsix.com/collections/lynn-keller
Live Interview – Susan Draus/Lynn Keller
Outbeat Radio December 2020
Live Interview – Jeff Nuss
Interview with Jeff Nuss
https://www.facebook.com/jeffnussmusic/videos/10158350943758221/
May 2019
Bass Musician Magazine
Bass Musician Magazine May 27, 2019
Featured Artist Bass Player Magazine May 2018
 Bass Player Magazine Review –
 Lynn Keller Signature 532-24  April 2018
Live Interview For Bass Players Only January 2018
Bass Musician Magazine NAMM 2017 – Lynn Keller Signature MTD Bass
~ Bass Musician Magazine
Bassist Lynn Keller shares her new MTD Signature Bass at the 2017 Winter NAMM show. Click to see the video
---
THE LYNN KELLER SIGNATURE 532-24
~ Michael Tobias Design
Michael Tobias Design is proud to introduce the Signature 532-24 Lynn Keller Signature model bass, designed in collaboration with none other than all-star bassist Lynn Keller. This instrument is unique in both it's size, string spacing, and the amazing set of characteristics bundled into its compact and player-friendly design… Read More
---
NAMM '17 – MTD Lynn Keller Signature 5-String and Bubby Lewis Signature 6-String Demos
~ Premier Guitar
---
Perpetual Motion
By Thomas Wictor
~ Bass Player Jan 2001 Issue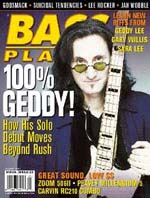 'You have to be flexible," says Lynn Keller – that creed has served her well for the last 25 years. The Illinois native juggles three full-time positions: touring bassist for Diana Ross, bassist/music director for Rita Coolidge, and bassist/music director for Walela, a vocal trio comprising sisters Rita and Priscilla Coolidge and Priscilla's daughter, Laura Satterfield. Keller has also toured with, backed, or served as music director for everyone from Nell Carter to Placido Domingo to the Fifth Dimension – 60-odd artists representing most popular-music genres. Amazingly, she also finds time to play sessions, contract music for special events, hire out for live shows, record jingles in her studio, play regularly with several L.A.-area bands, and perform with her own R&B group, the Suits. Her recent recorded work can be heard on Walela's Unbearable Love [Triloka].
A flute major at the University of Illinois, Keller picked up the electric bass in 1976 and soon relocated to Austin, Texas. "I started playing bass professionally almost immediately," she says. Lynn toured with Circus Vargas for a while but returned to college about six years later, at the University of Texas. "Electric bass wasn't a recognized instrument major at that time, so I went back to the flute and did bass gigs with my instructors." She got her Jazz Theory/Composition degree and stayed in Texas until 1986, when she moved to California.
Lynn credits her busy L.A. career to two traits: "Ability and attitude. When people hire me they get a great reader, a great groove player, and someone who's not afraid to express opinions. Play very aggressively, and I enjoy contributing and being creative. But having a great attitude is really important."
With her schedule and size – she's less than five feet tall and weighs under 90 pounds – gear portability is a main concern. "I'm always looking for gear that's more suited to me. I want a great sound without breaking my back." Keller currently uses a Pedulla Thunder Bass 4-string, a Kydd electric upright, and a Yamaha RBX760A 4 fitted with a Yamaha G-50 MIDI converter – a synth-bass system with a pick-up and Yamaha MU100 and FS1R synth modules. Her effects include a Visual Volume Pedal and a Boss OC-2 octaver. For local gigs she powers two Euphonic Audio 1×10 cabs with a Walter Woods1600w head; for tours she switches to a Euphonic Audio iAmp and two 2×10 cabs.
Though Keller knows it takes talent to get hired, she points out the importance of other qualities. "For bassists, it's important to master reading, master the styles, be adaptable, and play from the heart. If your heart's not in it, it shows – and then it's time to quit."
STYLE TIP
Lynn Keller describe backing Diana Ross as "a player's dream. Her material is full of signature Jamerson Motown lines, in addition to other styles such as straighthead jazz, show tunes, disco, and even hip-hop." How does
Lynn make all these different lines her own? "It's in the way I play the actual notes. I might make something more staccato when the original parts were legato. I might put in grace notes or change the parts leading into
or out of the meat of the line."
---
A Musician's Mental Suitcase
By Lynn Keller
~ Bass Player June 2003 Issue
If you were to pack your suitcase for a long trip, would you fill it with clothes you didn't like? Similarly, what do you take with you at the end of a gig? Think about it: do you fill your mental suitcase with anger?
Bitterness? Or even complete indifference? Whether the gig simply ended or you quit or were even fired, was your choice to burn a bridge, or were you able to take away anything positive from the experience?
In 1995 my family threw a huge party for my dad's 70th birthday. Many friends and family were there to celebrate, and after dinner it was time for toasts and speeches. Musicians my dad used to play with told lots of stories. But the most laughs centered around a Chicago party planner who had a large and quite disagreeable personality. In fact, she could often be a musician's worst nightmare. But my father, who had the gift of great patience, insight, and integrity, was able to work with her – and she, in her demanding and eccentric manner, loved to work with
my dad and insisted that his band play at all of her events. I often wonder: What if he had not been able to see anything good in this person or the work he did for her? He could have said goodbye and good riddance – but he made a different choice. He chose to take the high road. Throughout my dad's life he told many stories about
this woman, and with his passing those colorful stories remain with those he's left behind.
I'm often asked what it's like to work with the many well-known artists I perform with. "Are they nice?" What are they like?" "Are they a diva?" I've always said that in all highly creative fields there is a fine line between brilliance and insanity. Well-known celebrities aren't always the most well-adjusted and balanced people. I see celebrities differently: They are willing to walk on the edge, to do the unexpected, to be fearless, and to be possessed with a desire to have a voice – to say what it is they have to say, no matter how they say it.
In January I received a call from a friend who told me that Nell Carter had died unexpectedly in her home. I couldn't believe it – this was the first time I had experienced the death of someone I played music with. Truth be told, Nell wasn't always the easiest person to work with. Nell treated me kindly and unkindly as she did my bandmates. I have many memories – good and bad – however, what I remember most and carry with me are the good ones. I remember being invited to her home for a huge dinner she was having, during which she took the time to introduce me to every one of her guests. On another occasion she handed me the keys for a day to a brand-new Miata she had just bought. I saw her kindness, her generosity, and her "other" side. She was a great talent and someone I feel honored to have had the rare chance to play with. I will miss her.
Even though certain "challenging" artists don't always have the skills to say something with tact, it doesn't mean they're wrong for saying what they want. I can't say I've been treated well on each of the gigs and tours I've done over the years, but if I've taken to heart any of the lessons I've learned from my dad, it is to travel the high road. If a gig isn't right for you, move on- but if you choose to stay, you need to think of what you will take with you when it's over. Begin by putting things in your mental suitcase now. Maybe you've met another player you keep in touch with or even play gigs with. Maybe you've had the chance to travel to a place you'd never go on your own. Maybe your playing has improved or you learned more about yourself while you were struggling through your gig. Don't get me wrong; I don't believe in allowing someone to take advantage of you. But I do believe that acting with integrity takes you on a much better journey.
We all go through times wondering what we're doing in this music business to begin with. I realize this career hasn't afforded me the financial luxuries that many other businesses may have. But what is your definition of wealth? If I open my mental suitcase, what pours out are the wealth of stories and experiences I've had as a bass player. These will live with me for the rest of my life. I can't think of anything better to have in my personal treasure chest.
Seeing things from the brighter side is one of my personal challenges. I see it as an ongoing effort, which I encourage each and every one of you to consider. The benefits are long lasting, recession proof, and worth the smile you'll find on your fact – even at the end of a tough gig.
BP
The daughter of saxophonist/bandleader Jerry Keller, Illinois native Lynn Keller has performed with dozens of artists (often acting as musical director), including Diana Ross, Nell Carter, Rita Coolidge, Stevie Wonder, Dionne Warwick, Placido Domingo, Michelle Shocked, and the Fifth Dimension. Her own longtime R&B group, the Suits, still play a few gigs a year in the L.A. area.
---
No MsConception
Hattie St John had tea and a chat with Lynn Keller at the Regent.
~ Hattie's Live Music Guide Nov 1991 Issue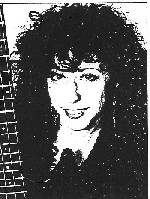 When Lynn Keller's up there doing her stuff you know all about it. The stuff she's doing is hot stuff with her bass guitar. It's not unusual for working musicians to travel the world as guest players for the big names, what is unusual is that Lynn Keller is a female bass player who does just that. That shouldn't be a big deal in the nineties but she finds that some people can't cope with the idea of a woman playing the bass. "Just a few weeks ago I had a call from somebody wanting to hire me as a bass player, until he heard my voice that was! He said, as soon as he heard me speak, 'Oh, you're a woman bass player. We're not equipped to play that sort
of music.' I said 'Pardon me, what sort of music?' To which he replied, 'We don't do female lyrics.' When I asked, 'What, exactly, are female lyrics?', he hung up!"
"So, I can't say that being a woman musician in the nineties is as accepted as I think it should be. It seems to take a big commitment that most well known artists are not prepared to take. But I do believe that things are opening up. It's just going to take patience and teaching people that, yes, there are people out there who are good players, who happen to be women. Maybe my job in this life is to educate people."
Lynn Keller has been doing her other job, making music for sixteen years now. Her first band was an all girl band known as MsConception. Before that band's conception she played keyboards. It was a happy accident that the band needed a bass player and the beginning of a happy relationship that felt "very natural." In one of those marvelous musical coincidences the first song she ever played was 'For What it's Worth', she got to play it again with Stephen Stills on the tour that brought her to New Zealand. She didn't tell him, so he'll probably never know what a thrill that gave her.
L.A. is where she now bases herself but life is mostly lived on the road. By now she'll touring again with The 5th Dimension for their fifteenth year reunion. During that tour she'll get to play with Billy Davis Junior and Marilyn McCoo. Rita Coolidge is one of the artists who books her on a regular basis. What sort of music does she like best to play? "My hearts happiest when I play R&B and Gospel funk." And is there anyone she would like to play with and hasn't yet? "Oh, Bonnie Raitt! I'd love to play with her. There's a hundred people really…"
What's the future got in store for this diminutive bass player with tiny hands? "I'd like to have my own band, to do more writing. To go on teaching women who are inspired musicians that it's not a man's world anymore!"
---
Practice Like The Pros
Lynn Keller: Practice Isn't Perfect
By Lynn Keller
~ Bass player April 2004 Issue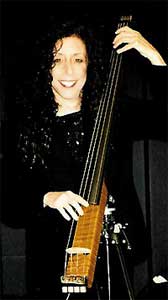 Practice is not perfect. It's about learning, and learning is a process. It's easy to judge yourself while learning something, but that attitude is self-defeating and makes learning more difficult. Practice time is not a time for judgment. Instead, remind yourself that you don't have to be perfect when you are practicing. Be gentle with yourself.
I've read that caffeine helps the learning process, so I often have a cup of coffee when I practice. I try to remove stressors before I start. I also try not to answer the phone and give myself some free space to be focused.
It's important to sit in a comfortable position when practicing. This takes the bass's weight off your shoulder and allows you to relax and flow into the bass a little easier. Once you can play a piece comfortably sitting down, practice it standing up.
I suggest setting aside the first portion of your practice session to play whatever you want. That helps put you in a good mindset. For the second practice segment I recommend practicing with Josquin Des Pres's Bass Fitness: An Exercising Handbook [Hal Leonard] — I love this book. It has exercises for dexterity, building hand strength, and working across and up and down the neck. Finally, read a chart, like a bass part from a musical. It can challenge both your chops and your reading.
---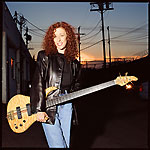 Lynn Keller, who is currently one of the musicians in 'Little Shop of Horrors' at the Fisher Theare, May 31 – June 12, is one of my favorite people! I first met Lynn, a native of Chicago, through Rita Coolidge, and what drew me to her, was first, she is one of a few professional female guitarists, and her tenacity to continue learning her craft is very evident!
Note: In the following interview, KW is short for Kirk Weber, and LK is short for Lynn Keller.
KW: You have certainly done a lot in your career. Did you know when you were younger that you wanted to be a musician?
LK: "I knew that I wanted to be a musician as early as I can remember. My father was a professional musician. He played nights and weekends, recorded some great records and owned a payroll company that paid musicians and talent. My mom worked with my father, so my whole growing up was surrounded by the music "business." My parents were thrilled that I chose to carry the torch."
KW: I am sure it wasn't easy for you at first, especially being a woman, wanting to play bass? The only female artists that comes to mind when you started were Bonnie Raitt and Nancy Wilson of Heart.
LK: "When it became 'difficult' was when I tried to make a profession of it. So many people wouldn't take me seriously because I was a woman in a traditionally male role so there's been lots of resistance over all the years, not just the early ones. Many times I would get a call to do a gig because they want a specific 'look' and not because they just want a good bass player who just happens to be a woman! My early years were shaped by strong women musicians, everyone from Barbara Streisand to players such as Marian McPartland and one of my bass playing mentors, Carole Kaye."
KW: You have toured with many, many people. Diana Ross, Rita Coolidge, etc…. What is the difference between performing in a concert setting to a musical play setting?
LK: "The biggest difference is the contact with the audience. In a concert setting, I can look out and see who our audience is and I can see them enjoy and react to what we're playing on stage. I love connecting with those faces and I love sharing energy with the artist that I'm playing behind. A theatre setting is a completely different structure. If you're in an orchestra pit than you don't have the opportunity to see the audience and watch and greet their reponse to the music. I love musical theatre but I do miss the thrill of standing on a huge stage and seeing people enjoying what they're hearing."
KW: Is this your first time touring in a play?
LK: "This is my first time touring with a 1st run Broadway tour. I'm honored to be working with our conductor Brent-Alan Huffman."
KW: I have often wondered how do you keep your level of enthusiasm up each night, doing the same thing over and over?
LK-: "It's really no different than playing with a specific artist for many years. With an artist you may have more musical freedom, but you are still playing the same songs night after night, year after year. With musical theatre I come in each evening to perform and have the mindset of playing the show with greater perfection each night. When I have a musical section where I can improvise, I keep it fresh. I play something different each show. I've performed Little Shop approximately 300 times and I love the challenge of keeping it creative!"
KW: Do you get a chance to write and record while on the road with 'Little Shop?'
LK: "When I have time off I come back to Los Angeles and I am usually able to record during that time. There are a number of people who have requested me on their recording projects and they've been able to arrange many of those projects around my schedule."
KW: If you could have the ULTIMATE musical dream job, what would that be?
LK: "Really wanna know?? Ok, truth be told. Wynnona. I love her music, I love her ethic, I love her in concert. To me her music is the perfect blend of great melodies, lyrics, country and R&B."
KW: What advice would you give to a young person, someone just starting out and learning their craft?
LK: "I would tell them to follow their heart and let it lead them down the right musical path. I started out as a classical flute player – in fact, that was my college major but my heart led me in a different direction and I'm grateful I followed it. I would tell them to be dedicated to their instrument, learn and listen all you can. Learn to read music and above all don't starve for your art. Allow yourself all of lifes opportunities because it will make you a better musician."
---
Press Ads